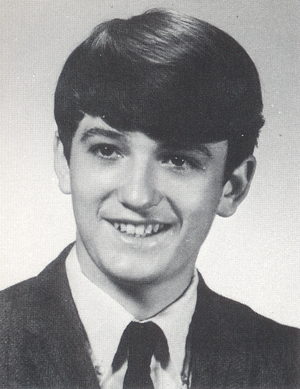 Thomas E. Abbott
A high Mass of requiem was held this morning at 10 pm for Thomas E. Abbott, 17, born December 20, 1953, at St. Joseph's Church in Dover. He was the son of George T. and Ruth P. (Ross) Abbott, and resided most of his lifetime on Long Hill Road, Madbury.
He was a 1970 graduate Oyster River High School, Durham.
Members of the family, in addition to his parents, include two brothers, Richard Abbott of Dover, and Donald Abbott of Madbury; two sisters, Mrs. Joseph (Ruthann) Alty of Dover, and Miss. Luise Abbott of Madbury; his paternal grandmother, Mrs. Albert Abbott of Dover; and aunts, uncles, cousins and one nephew.
A requiem high funeral Mass was said this morning at St. Joseph Church, Dover, followed by internment in St. Mary Cemetery, Dover.
The Thomas E. Abbott Scholarship Fund has been established at Oyster River High School, Durham. Contributions may be sent to Principle Office, ORHS.
---
Funeral Notice
MADBURY -- Funeral services for Thomas E. Abbot of Long Hill Road who died from injuries received an automobile accident Saturday were held this morning at 10:00 o'clock at St. Joseph Church, Dover.
Rev. Norman Simoneau, asst. pastor officiated the Solemn Requiem High Mass with Mrs. Frances Sirois as soloist accompanied by Al Paquin, organist. Rev. Vincent A. Lawless, pastor of the Church of St. Thomas More of Durham was seated in the sanctuary and assisted at the rites.
Delegations attending the church included Oyster River High School staff, teachers, classmates and schoolmates, Huddleston Hall staff and employees, Sawyers Outlet Store employees headed by William Carroll, the United Tanners, headed by Mr. Seymour Osman and Mr. John Leahy, the General Electric Co. headed by Mr. John Constantine and Mr. Matthew Ginty, the Dover Police Department, headed by Chief Richard Flynn, the Sisters of Mercy and Madbury residents, neighbors and town officials.
Interment took place in the family lot at St. Mary New cemetery with committal prayers at the grave by Deacon James Nichols. The bearers were Kenneth Wolfe, Toby Weir, Robert Herron Jr., John Abbott, Brook Dupee, Martin Jennison, David Ross and Gary Munroe. Funeral arrangements were under the direction of the McGill Funeral Home, Charles E. Tasker, director.