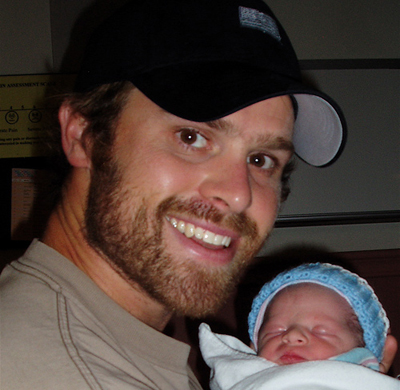 VIRGINIA BEACH, VA- Special Warfare Operator Chief Petty Officer, Nathan H. Hardy (SEAL), 29, of Durham, New Hampshire was killed while conducting combat operations in support of Operation Iraqi Freedom February 4, 2008. He was based out of the Hampton Roads, VA area.
Hardy was born in Falmouth Hospital on Cape Cod on December 28, 1978. He grew up in Kirkland, Washington and Moon Township, Pennsylvania before moving to Durham, New Hampshire in 1988. He dreamed of becoming a Navy SEAL at a young age. Through his years on the soccer and lacrosse fields at Oyster River High School he discovered and developed the fierce competitiveness and team-first mentality that would later serve him so well on his road to achieving that goal.
After graduating high school he enlisted in the Navy. In doing so he carried on a naval legacy from his grandfathers. Charles "Bucky" Harris served on the PT 109 with John F. Kennedy, and Dr. Irad B. Hardy served as a combat surgeon with the Fourth Marine Division on Tarawa, Saipan, and Iwo Jima. Chief Hardy graduated from boot camp at Recruit Training Command, Great Lakes, Ill., in January 1998. The same month, he entered Basic Underwater Demolition/SEAL (BUD/ S) training in Coronado, CA, Class 221. Following graduation from BUD/S in May 1998, and other than attending various schools, he served his entire career with East Coast-based SEAL Teams. His awards and decorations include the Bronze Star, two Navy and Marine Corps Achievement Medals, three Good Conduct Medals, two National Defense Medals, Armed Forces Expeditionary Medal, Afghanistan Campaign Medal, Iraq Campaign Medal, Kosovo Campaign Medal, Global War on Terrorism Expeditionary Medal, Global War on Terrorism Service Medal, three Sea Service deployment awards, NATO Medal, Expert Rifle Medal, and the Sharpshooter Pistol Medal.
In 2005, while attending the Defense Language Institute in Monterey, California, Hardy married the love of his life, Mindi Buck from Salt Lake City, Utah. In 2007 Mindi gave birth to their son, Parker Hall. He lived his dream both at work, where he served the cause of freedom against terror and fear, and at home, where he was a devoted husband and father.
In addition to his wife, son, mother, father and brother, he leaves a grandmother, aunts, uncles, and cousins. He was predeceased by his brother, Josh, who died of brain cancer in 1993.
In lieu of flowers, friends may send donations to the "Nate Hardy Memorial Fund" care of Navy Federal Credit Union, Building 200, FTC Dam Neck, Virginia Beach, VA, 23461.