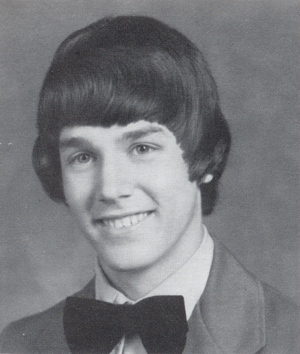 DOVER ; Eric Johnson of Dover, a loving dad, husband, son, brother, uncle and friend, died Monday evening, Feb. 25, 2008, after 50 years of vibrant participation in life. Eric was a graduate of Oyster River High School, class of 1976, and of the University of New Hampshire, class of 1980. He was a member of the Sigma Beta Fraternity.

Many classic rock fans will remember Eric as the charismatic drummer of Crossfire, a popular local band from the 1980s. As his family grew, his familiar voice was heard as a co-anchor on radio station WCDQ. Eric was also successful in computer sales at Green Pages in Kittery, Maine, and an assistant broker at the Egg Clearinghouse in Dover. In the last few years, he volunteered at Wentworth-Douglass Hospital.

Of all his accomplishments, he was most proud of his three beautiful children, who he showered with his love every day of his life. Eric enjoyed seeing his daughter, Alecia, attend his alma mater, UNH; watching his son, Chris, excel in a variety of sports; and singing rap songs with his daughter, Michelle. He was also a member of Steppingstones in Portsmouth and enjoyed his many friends there.

Eric's impact stretched over the map. During his lifetime, there was not a person he met who was not affected by his energy and positive outlook on life. Even in his years of failing health, he looked to help others by volunteering his time or offering an encouraging word.

Eric is survived by his loving wife of 25 years, Lorraine; his children, Alecia, Christopher and Michelle; his mother, Virginia Johnson, of Dover; his father, William Johnson, and his wife, Marylee Johnson, of Barnstead; his aunt, Dorothea Hooper, of Dover; his sisters, Lynn Allen, and her husband, Paul, of Durham, and Terry Carter and her husband, Kirk, of Christianburg, Va.; father-in-law and mother-in-law, Fordie and Mary Louise Pitts, of Scituate, Mass.; sisters-in-law and brothers-in-law, Mary Lou and Stephen Bohn, of Dover, Mass., Karen Pitts and her friend, Chris Cunniff, of Milton, Mass., Fordie and Shari Pitts of Bridgewater, Mass., and Corinne and Michael Norton of Pembroke, Mass.; and nieces and nephews, Elizabeth, Rebecca, Emily and Hannah Allen of Durham, Eric and Karen Bohn of Dover, Mass., Taylor and Kendall Pitts of Bridgewater, Mass., and Drew, Kate and Haley Norton of Pembroke, Mass.

In lieu of flowers, donations can be made in Eric's memory to The Krempels Brain Injury Foundation, 100 Campus Dr., Portsmouth, NH 03801. The foundation funds Steppingstones, a day program for people living with brain injuries.